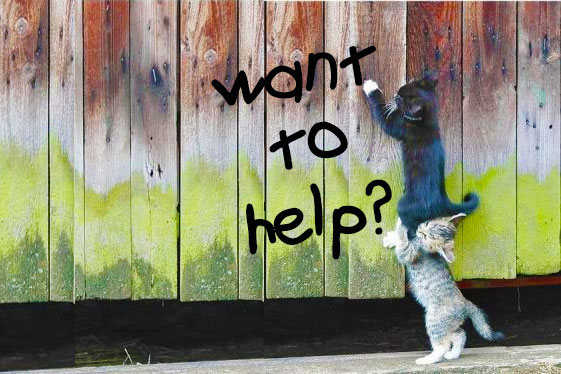 VOLUNTEER YOUR TIME AND LOVE!
Volunteer Application
All new volunteers should fill out a volunteer application before seeking to help in any specific area. All applicants will be given contact information about their area of interest.

We can use help in the following areas:
Front Office
Front office support at the shelter on Saturdays from 11 AM - 4 PM to meet and greet guests interested in adopting our furry friends. (Can be 2 shifts.)
"Cuddling" with the Cats
Our "Cat House" houses about 35 cats that all need to be socialized, exercised and groomed on a regular basis. Volunteers that love cats will really enjoy working in this environment. The cats are fed, and their litter boxes and cages are cleaned every morning. By 11:30AM they are looking for visitors. Volunteers are welcome to visit between the hours of 11:30AM until 5PM Tuesday through Friday, Saturday from 11AM until 4PM.
Dog Walkers Needed!
If you'd like to get some exercise and help a homeless dog get some human companionship and quality time outdoors, you're invited to join the Nassau Humane Society's volunteer dog walks. The dog-walking schedule has changed for the summer: Walks are being held Sunday, Tuesday, and Thursday at 9 a.m. Walks are held at the NHS shelter at 671 Airport Road, across the street from the Fernandina Beach city airport. Walkers should dress comfortably and must be 18 or older, but minors are welcome to accompany a parent or adult guardian. For further information please call (904) 321-1647 or simply stop by the NHS adoption center at dog-walk times or during business hours, 11:30 a.m.-5 p.m. Tuesday-Friday, 11 a.m.-4 p.m. Saturdays.
Pet Grooming/Baths
Like all pets, our adoptables need regular grooming. This is especially important prior to a big adoption day or when we are planning on marching them in a parade. Weather permitting this is a great way to stay cool in the hot dog days of summer!
Remote Adoption Days with Adoption Waggin'
On a regular basis we take our cats and dogs to remote adoption days in Fernandina Beach, Red Bones Dog Bakery,and other locations in Jacksonville. Volunteers are needed to help transport, and/or meet us at the adoption sites to unload. In addition, if you can volunteer to care for the pets and answer questions it is a great help in finding homes for our furry friends.
Fundraising Events
The City of Fernandina funds us for the pick up of stray animals and the care and feeding of these strays for 5 days only. Everything that happens to the animals after day 6 on is funded solely by donations and run by the Nassau Humane Society. This includes, in addition to the cleaning and feeding of the animals, the necessary shots, worming, and spaying or neutering of animals prior to adoption. To accomplish this we must constantly raise money through fundraising events sponsored by the Board of Trustees as well as the shelter staff. There are several events each year that require volunteer efforts:
Second Chance Store

Splash Bash

Bark for Life

Pasta for Paws

Parade for Paws

Taste & Toast
Black Tie & Tails

In addition to these major events we also try to keep a "presence" by attending other community events and displaying our pets for adoption. Information on upcoming events can be viewed on our website at events.
If you can open your home and heart to help foster an animal through an illness or just until it is old enough to be on its own we have a wonderful foster program. From time to time we get in very young kittens or puppies. Keeping them at the shelter exposes them to many germs that their young immune systems may not be able to handle. Or we get in very adoptable dogs that are heartworm positive and need a stress free home during the 6-8 weeks of treatment. Sometimes we need a home for just a few nights until the animal can be placed in a more permanent situation. We still are responsible for the animal and will handle the vet bills, food, and even provide you with kennel. You will have emergency contact numbers of shelter staff should a problem arise. This a is a great way to help save a life and have a "temporary pet"!
Landscape/Repairs
We strive to keep our shelter running smoothly and constantly make upgrades to ensure the animals in our care are made as comforatable as possible. Activities such as building puppy corrals, fixing fences, and trimming the trees are all done by volunteers. A fresh coat of paint or some flowers really make the Adoption Center shine for prospective parents and make the "Shelter" a pleasant place to visit. If you have a skill or just a good back, this is one area where we can always use help!
Hurricane Evacuation
If a decision is made to evacuate Amelia Island due to a hurricane, volunteers will be needed to transport the animals to a safe location. You may take an animal to your home in Nassau County located away from coastal danger zones, or your hotel/motel room if you are leaving your home on the island. Please call 321-1647 to have your name added to the list of available volunteers.
NHS Dog Park
You must be at least 18 years old to volunteer at Nassau Humane Society Dog Park. While volunteering at the Dog Park is not working directly at the shelter or with shelter animals, the proceeds from the entry fees collected at the park go to keeping our shelter running. Your work here then becomes an indirect contribution and very much appreciated. Responsibilities are divided between inside and outside. Shift hours vary according to season.

Inside: Answer the phone, take new applications along with payment via check, credit card or cash. Talk to people about memberships and help straighten up inside.
Outside:Keep watch over the play areas to make sure things stay tidy. Fill up water bowls, empty the pooh pails, skim leaves from the pool, clean the pool filter, answer questions from members, and watch to make sure all dogs get along.
Please phone the dog park at 491-1511 if you would like more information.